3970 items found from LG ELECTRONICS brand:
LG ELECTRONICS EBR74306901 Z-sustain Board Eax64282301
Main X board 50 R4T4_Z, EAX64282301 Substitute part numbers: EBR74864401 CRB33645901 Used with LG PDP50R40000 50" Plasma Panel Number EAX64282301 is prinetd on the board - do not order by this number, it is generic board number. Look for EBR74306901 number on the original board
USED $17.95
LG ELECTRONICS EBR74185001 Control/logic Board Eax64290701
Logic PCB EAX64290701, 50R4_60R4_CTRL Used with LG PDP50R40000 50" Plasma Panels
USED $12.50
LG ELECTRONICS EBR73764302 Y-drv Board Lower Eax64300301
Lower y buffer module Boasrd numbers: EAX64300301 YDRVBT For LG 50R40000 50" Plasma screen
USED $16.99
LG ELECTRONICS EBT62218302 Main Board
Board numbers: EBT62145301 EAX64696604 EAX64696607 EBR75290602 AV switch Digital tuner USB port RS 232 port Analog inputs (2 component, VGA) 3 HDMI inputs Optical output Substitute part numbers: EBU61842503 EBT62218303 EBT62218301 CRB33350601 EBT62218202
USED $42.95
LG ELECTRONICS EAY36768101 Power Supply Board Eax37617601
Power suppy/back light inverter module assembly Board numbers: EAX37617601 LGLP32SLPV2 Substitute parts: CRB30595001 (LG refurb) EAY38239801 EBU39752201 EBR38799802 EAY37228901 CRB30595101 (LG refurb.) EBR38799801 EAY38637401 EAY38639701 EAY34795001 AGF34784001 EAY39025701
USED $19.95
LG ELECTRONICS AGF76578710 Remote Controller Akb73615316
Remote controller model number AKB73615316 Substitute part numbers: AKB73615326 AKB73615322 AKB72914201 AKB73615316 AGF76578718 AGF76578722 AKB73655806 AGF76578714 AGF76578723 AGF76578724 AKB73655808 AKB73655811
USED $9.95
LG ELECTRONICS EBX61668501 Lg Passive 3d Glasses Ag-f310
2 passive glasses bundle. For LG Cinema 3D Passive - no batteries required. Substitutes: EBX61508303 EBX61268401 Used in various LG 3D televisions.
USED $12.00
LG ELECTRONICS EBT63355001 Main Board Eax65865804
Main Unit Board numbers: EAX65865804 (1.0) 329X245 Substitute part numbers: EBT63336701 CRB34948401 (LG refurbished).
USED $99.95
Free Shipping!
LG ELECTRONICS EBR73733601 Z Sustain Board Eax64297701
Main X scan drive EAX64297701 60R4_Z Used with LG PDP60R40000 60" Plasma Panel Sub parts: CRB33383901 EBR73733701
USED $19.95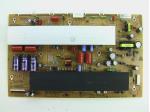 LG ELECTRONICS EBR73763201 Y-sustain Board Eax64282201
Main Y scan drive Module numbers: 50R4T4_YSUS EAX64282201 E322685 Substitute Part numbers: CRB33645801 (LG refurbished) EBR74863901
USED $29.95
LG ELECTRONICS AKB73615316 Remote Control Akb73615316
Remote controller. Batteries not included. Fits multiple LG TV models.
USED $9.99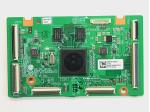 LG ELECTRONICS EBR73749601 Control Board Eax64290701
Control/logic board 50R4_60R4_CTRL EAX64290701 Substitute part# CRB33384101
USED $12.99
LG ELECTRONICS EBR73731801 Y Drive Lower Eax64279601
Lower y scan driver 60R4_YDB Board number EAX64279601, YDRVBT
USED $17.00
LG ELECTRONICS EBR73710601 Y Drive Upper Eax64297301
Board numbers EAX64297301, 60R4_YDT Ypper Y scan drive YDRVTP. Sub part# CRB33407101
USED $16.95
LG ELECTRONICS 6916L-1176A Led Backlight Strip L1
Single LED backlight strip L1 Used with LG panel LC470DUG-JFR1
USED $22.00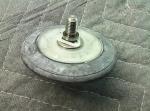 LG ELECTRONICS 4581EL2002C Roller Assembly
Replaces following part numbers: 4581EL2002B 4581EL2002D 4581EL2002E
USED $29.00
LG ELECTRONICS 6916L-1948A Led Backlight Strip
for 47LB5800
USED $22.00
LG ELECTRONICS EAY62810801 Power Supply Board Eax64905501
Power unit Boiard numbers: EAX64905501 LGP4750-13PL2 WARNING! If TV has no backlight please check LED arrays first. It is very common to misdiagnose defective LED backlight as a power supply failure.
USED $29.95
LG ELECTRONICS EAY62609801 Power Supply, Ac/dc 3pagc10074a-r
Board number EAX64276701/11 Substitute part number CRB31287401
USED $35.00
LG ELECTRONICS EAY62609701 Power Supply Board Eax64276501
Power module Sub part number CRB31287301 Numbers on the board: 3PAGC10073A-R PSPI-L103A EAX64276501
USED $64.90